The
2015 Scion FR-S
in Orlando
is an extraordinary vehicle. In fact, it won the Hottest Sport Compact award at the 2012 Specialty Equipment Market Association Show in Las Vegas! This award is typically given to the auto that is the best blank canvas for any additions or customizations drivers want to make. Whether you have the new Scion FR-S in Orlando or a different auto in your driveway, customizing your vehicle doesn't have to be difficult.
Why should I customize my new Scion FR-S in Orlando?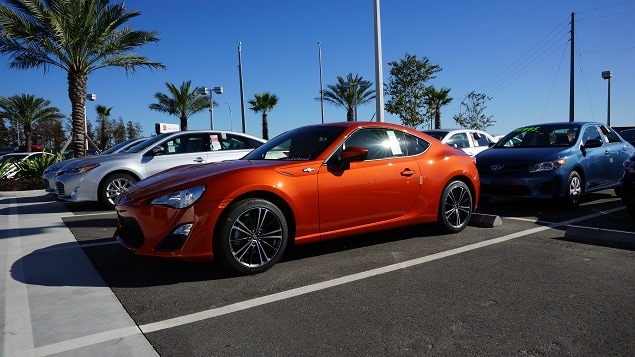 There are many different reasons why drivers choose to customize their vehicle. Besides giving it a unique look that's a reflection of the driver's style, there are also practical and performance-related reasons as to why auto owners might change certain elements of their vehicle.
Customizing your new Scion in Orlando can help make it more efficient. Changing the spoilers can help increase fuel-efficiency! Having the correct spoiler on your ride can help minimize drag, which in turn improves its aero-dynamics. This means it doesn't have to work as hard - or use as much gas - to deliver a supreme performance!

   

You can also significantly improve your vehicle's performance by customizing different features. For example, simply changing the type of wheels and tires on the 2015 Scion FR-S from 17-inch standard alloy to 18-inch ultra-high performance summer tires with the appropriate wheel size delivers a whole new driving experience. This small change delivers even better handling and more control, as seen by Consumer Reports!

We also offer price matching on tires. So if for some reason you happen to find the tires you want for your new Scion FR-S in Orlando at a lower price somewhere else, let us know!
Re-style your Orlando Scion FR-S!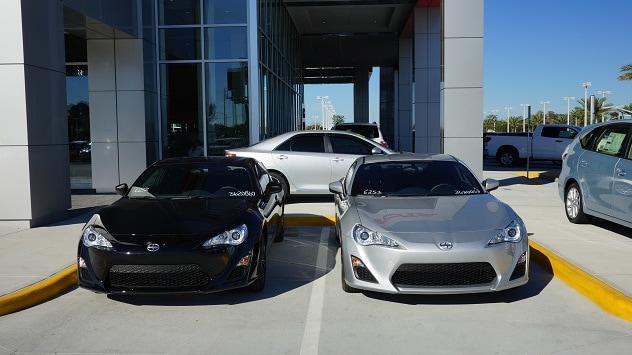 Updating the appearance of your 2015 Scion FR-S in Orlando
doesn't have to require much effort or time. If you're interested in protecting the exterior of your sports car, without significantly changing its already stellar appearance, our Orlando Scion dealership has the materials you need to swiftly accomplish this.
The rear bumper applique is a quick addition that is not only UV-resistant, but helps prevent scratches and scrapes.
   
Investing in paint protection film helps keep your 2015 Scion FR-S in Orlando look like new long after you drive it home. This practically invisible covering keeps the paint job clean and shiny while also removing the possibility of road debris making ugly and unattractive chips on the exterior.
   

Installing mudguards is a small change that won't distract from this auto's stylish features, but it will help protect the vehicle from items on the road that might damage it! When you come to our Orlando Scion dealership, we can help you choose the mudguards that are made specifically for your 2015 Scion FR-S!

Customizing your vehicle to give it a whole new look doesn't have to require a lot of parts or specialized materials. Upgrading to the BeSpoke Premium Audio System alone will change the interior of your new Scion in Orlando with its 5.8-inch LCD color screen! 

How much you want to change your 2015 Scion is completely up to you, but a few key alterations can easily give your new Scion a whole new appearance! Altering the look of your new Scion in Orlando by modifying one element will easily start the transformation of your vehicle into what you want it to be!
 
Scion of Orlando can help you find customized accessories!

Starting the process of customizing your new Scion in Orlando might initially seem a little bit overwhelming. That's why our team members are here to assist you! In fact, we offer many of the tools you need to start the process! At our new Orlando Scion dealership, we can easily help you find many of the accessories you want in order to achieve the unique and customized look you desire your vehicle to have. Here are just of the few accessories we offer:


TRD High Performance Air Filter: This helps enhance airflow and filtration to help increase the engine's output. Designed to last the lifetime of your vehicle, you'll probably start to notice better engine performance as soon as you invest in this slight change. 
   
TRD Performance Dual Exhaust: Built entirely out of stainless steel, this TRD sport muffler delivers an engine sound that's both deeper AND more powerful. 
   
Rear Spoiler: This added detail can help limit the lift of your ride, which can make the rear end easier to handle. 
   

Alloy Wheel Locks: These serve a very specific as well as stylish purpose. Not only do they enhance the look of your vehicle, but they also provide extra security and protection to help prevent theft of the alloy wheels. 

One of the benefits of going through us to find the parts you want is that you know you'll be getting reliable genuine accessories. Don't stress about trying to find the materials you want on your own. Our team members are here to assist you and help you along through the customizing process! We also have a parts and service department that can assist you if you need any installation help.
If you have any questions, or want to explore customizing a new Scion, don't hesitate to come in and see us! Be sure to check out the parts specials in Orlando
that we offer, as well! We're located at 3575 Vineland Road just off of I-4!