When you're looking for a city-friendly ride, there are a solid amount of choices on the market today. You want something compact, maneuverable, and yet still efficient and affordable - that's why we're so proud to offer the
2014 Scion iQ
in Orlando at our dealership! However, we know that this popular subcompact isn't without competition; more and more automakers are producing urban-friendly vehicles as time goes by. 
The Orlando Scion iQ takes on the Fiat 500 Pop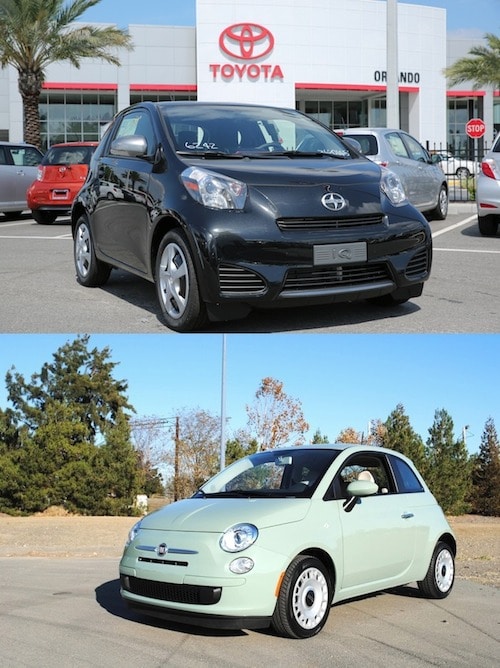 One of the biggest competitors of this popular new Scion in Orlando is definitely the new Fiat 500 Pop - they're probably two of the most well-loved options out there right now, so it's understandable that choosing between them could bring a little bit of anxiety. How do you know which is going to best suit you and your drive time needs? That's where we come in - Toyota Scion of Orlando is here to help!

Performance Capabilities
One of the biggest things to think about when you're looking for an urban auto solution is the size. Maneuverability is key in tight city streets, especially when you're searching for a parking spot!


The 2014 Scion iQ in Orlando is a good deal more compact than the Fiat 500 Pop; this new Scion's wheelbase is smaller than that of the Fiats (78.7 inches versus 90.6 inches).

The Orlando Scion iQ also has a lighter curb weight; it clocks in at 2,127 lbs; the Fiat 500 Pop easily outweighs it at 2,236 pounds. Less curb weight means more fuel efficiency and better stopping capabilities! This new Scion also boasts a tighter-tuned steering system for better maneuverability.

Speaking of fuel efficiency, while the new Fiat 500 Pop outdoes the Scion iQ on the highway, you'll find fuel efficiency on your side if you take to city streets or suburbia for your daily commute - this Orlando Scion gets 36 mpg in the city, versus the Fiat's 31 mpg.

Did we mention that the Orlando Scion iQ is available in both manual and automatic transmissions? You'll only find the Fiat 500 Pop available in a manual, leaving you little room to customize your drivetime experience.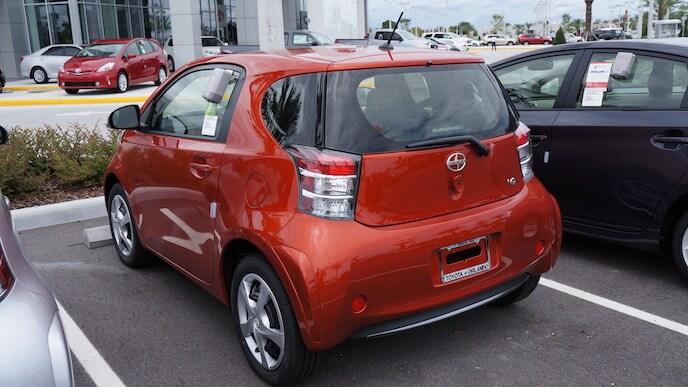 Get sporty, stylish, and tech-savvy in this new Scion

Technology and Connectivity
If you're looking for something sporty and stylish that offers a solid dose of technology, you'll definitely find it in the 2014 Scion iQ in Orlando. It offers a standard touchscreen audio system for not only easier accessibility, but also a sleeker overall look on the interior! You won't find this feature in the 2014 Fiat 500 Pop. 


Safety Technology
You'll also feel a tad more secure when you're behind the wheel of this compact new Scion. It has a lot more safety technology integrated into its design, including the Star Safety System, which is unique to Toyota and Scion and not available on the Fiat 500 Pop. With this unique system comes with features like traction control, smart stop technology, brake assist, and electronic brake-force distribution! You also get knee airbags for the passenger in this popular Scion (which aren't available in its Fiat competitor), and a handy first aid kit as a standard feature! 


Price
Price is also another area where the new Scion iQ in Orlando overtakes its competitor; it starts at an MSRP of $15,665, which means it's one of the most affordable city cars up for grabs right now. The Fiat 500 Pop starts out at $16,195, which is almost a 500 dollar difference? why not take that $500 and buy your new ride some accessories? 


Still unsure as to which of these city solutions is your best bet? Let us help you decide - come take the 2014 Scion iQ for a spin today! Toyota Scion of Orlando is located just off I-4 near the Millenia Mall at 3575 Vineland Road? we'll see you soon!